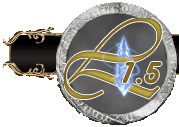 News & Events
After several weeks of testing the new client on the test server, I feel it is ready for release. There will be an In-Game release party to celebrate as well!
The new client has many new features, here is a list of some of the ones that stand out:
Action Window with buttons for common "/" commands and settings toggles.
A new spell window that organizes the spells differently.
A new bookmarks menu with better organization and color codes
New friends/block window
Auto-Potions Window that will use potions when your Hp or Mp drops below 60%
New Auto Attack feature that allows you to right click a target then left click to attack them after they are selected
New auto follow system that will auto follow a character that you right click on if you left click after
New PVP toggle that allows you to attack players and npcs without holding down the control button.
Dead monsters will become transparent preventing you from targeting them, making it easier to kill groups of mobs single target
A new Shop system that lets you pick a shop polymorph to attract players to purchase from you
An instance timer that lets you know how much time you have left in the instance before you are kicked out
A status screen that tells you details from this play session including:

Exp gained
Adena Gained
Monsters Killed
Items Gained with a list of them

A new browser window that will have features added to it in the near future
An updated equipment window that shows your brooch and guarder slots
Support for many new monster sprites
Support for many new epic maps and instances
The release date will be Saturday, May 22nd at 1PM EST. The server will be down for approximately 1 hour to do some backups and other small maintenance. Once the server is back online you will not be able to connect to it with the current client. You will be required to have the v4 client installed to connect from that point on.
You can be sure you are ready to connect by connecting to the test server after installing the new client. The test server's database is based on the database from around 1-2 months ago, this means if you have changed your password since then, you will need to login with your old password.
If you are having problems connecting to the test server or the live server after release you can check this guide to assist in trouble shooting your connection problem: http://boards.l15server.com/t/connectivity-issues/373/2
Here are the download links for the new installers:
Link: http://www.l15server.com/files/L1.5v4_installer.zip
Mirror: https://mega.co.nz/#!Ct4B2KTK!etULEcI3cX9RGgdR5lslMJdReYMDnBHaknZG6OepKBc
To install the game, follow these instructions:
Download the game with the link above
Extract L1.5v4_installer.zip by double clicking it or using your favorite zip file program
Install .NET Framework 4.5.2 if you don't already have it installed there is a folder inside the extracted content that has an installer for it.
Double click setup_v4.exe and follow the prompts to install it. Many steps in this installer may take a long amount of time to process as it uses a high compression rate.
Double click the L1.5 Updater shortcut on the desktop to let the game update. (click I accept then when its finished just click close)
Double Click the L1.5 v4 shortcut on the desktop to open the connector and you can use this to then connect to the game. If you are doing this before May 22nd you can click the TestServer to login and test that you are ready for the release.
Thanks to ThePapi! there is also a video showing you how to install the game: https://www.youtube.com/watch?v=svN0c5S_E68
Shop Changes
Yates is reducing the prices for all of the instances passes and codex of time for the next week or so! Take advantage of this to do dailies many more times!! Here are the new temporary prices during the sale:
Codex of Time: 200GC (Save 50GC)
Ivory Tower Instance Pass 7GC (Save 3GC each)
Thebes Instance Pass 5GC (Save 2GC each)
Event Instance Pass 15GC (same price, but now you can go in these instances solo!!!, so really half off!)
Ives has had his selection of event items reduced by some, easter items will be removed soon too.
Underworld Quest Changes
The summoned quest monsters have had their hp reduced by large amounts.
EXP and SXP has been added as rewards for killing the quest monsters.
As a reminder, the timer for the next wave of monsters also goes much faster when all monsters around the quest spawner are dead, so the quest goes much faster if everything is killed.
Pandora Event
New temporary event items are being added for pandora pass chances when playing Pandora's Jewelry Game. Check it out soon, you'll know the event items by the Rainbow Glow they have!
Other Changes
Dimensional Chest reward rate from completing instances has been reduced, Instance Keys and Mysterious Keys have been increased.
Ivory Tower and Thebes Instance passes have been added as possibilities of prizes when opening the instance chests.
Bunny items have been removed from the dragon breeding ground mobs.
Adena gained from the eggs have been decreased as well.
Talking Island has returned to its normal state
New Event Items
These limited edition items have been added to the Event Master Ives located in Valhalla :

Lightsaber - 2015: This new weapon to celebrate May 4th is so that the 4th May be with you forever and always. This handy weapon can be boosted with the nightmare essence and has the chance to proc turn undead. Whats more is each time you attack it also makes awesome sounds!

Cinco De Mayo Maracas - 2015 - This fun weapon makes sounds as you beat your enemies senseless to your own tune! It has a safe enchant of 20 so you can let your scrolls soar to the tune of your favorite song.
Other Fixes
Party Exp Bugs fixed
Some high exp mobs had their exp slightly reduced
Some mobs had their exp increased
AOE styled melee weapons have been rebalanced
Cloak of Warrior, Magi and Cleric now are A grade to prevent issues with broken charaters
Starting today you are able to download the beta v4 client to help find the bugs so we can upgrade to this newer client for the live server.
The Download URL for the v4 beta client is below:
https://www.l15server.com/files/L1.5v4-Beta.rar
Once you have downloaded the file, extract it with winrar or any other rar extracting software then run Login.exe At the server select tab choose L1.5 Test to ensure you are able to connect to the test server. The L1.5 server button will not work with this client as it doesn't yet support it.
It connects to the test server which uses a month old copy of the live database. So if you have changed your password in the past month, you'll need to use your old password to connect.
Any bugs or issues create a new topic on the beta boards and describe very detailed how to reproduce the bug if you can. The beta boards are located here: http://boards.l15server.com/c/l1-5-discussions/beta-boards
If these tests go well, we will move to this new client this month. I'll build an installer closer to ready to push it live.
The Pharaoh's Tomb
A new instance was released with yesterday's restart! This is a very long instance that has a 30 minute time limit compared to the usual 10 minute time out of many other instances. It allows between 1 and 4 players into the instance together, allowing you to bring some extra help to tackle the harder difficulty levels.
This instance also is a higher difficulty level than the others continuing with the pattern seen with the Alter of Osiris as far as toughness goes.
There will be an update to this new instance to add a boss to the hard and extreme difficulty levels. There will also be gates between some of the rooms that require switches to be found to unlock or open them.
The rewards for this instance are similar to the Alter of Osiris however the exp that the monsters have are much much higher than most other hunting zones making it a good instance to do for exp hunting. If you are wanting to go much faster through the instance, you are able to speed it up by bringing a friend or two.
New, Old Hunting Zones
All ancient monsters have been edited to become much more enjoyable and rewarding.
Tribute Island (formerly Forgotten Island):
- All Monsters have had hp regen changed to every 5 seconds (from less than 1 second)
- All Monsters have had their Total Hp greatly increased
- All Monsters have their EXP gains greatly increased and xp fixed so they give a lot of exp
- All Bosses have these changes as well
These changes shouldn't make the zone harder, but instead should make the zone much more worthwhile for hunting as you gain way more exp per mob than most other hunting zones.
Orc Village & Fortress:
- All Monsters have had hp regen changed to every 5 seconds (from less than 1 second)
- All Monsters have had their Total Hp greatly increased
- All Monsters have their EXP gains greatly increased and xp fixed so they give a fair amount
- All Bosses have these changes as well
These changes shouldn't make the zone harder, but instead should make the zone much more worthwhile for hunting as you gain more exp per mob
Wastelands:
- All Monsters have had hp regen changed to be much less often
- All Monsters have had their Total Hp greatly increased
- All Monsters have their EXP gains greatly increased and xp fixed so they give a fair amount
- All Bosses have these changes as well
These changes shouldn't make the zone harder, but instead should make the zone much more worthwhile for hunting as you gain more exp per mob
Event Changes
Greatly increased the drop rate of Ring of the Bunny King from the Easter Bunny King monster.
Other Changes
Eye of Ra stats and skills finalized: http://www.l15server.com/show/eye-of-ra-x_220704.html
Range for dolls to teleport to you is decreased to attempt to further decrease bugs with them.
Dimensional Doll's ability is ready for release. It has the chance as you gain exp to proc and give you a Dimensional Chest. It has a maximum of one chest able to be given per monster you kill. It requires enough exp gained though to run the chance to give the item.
Bug Fixes
High EXP monsters will now give proper exp to party members and pets.
Valakas Claw Staff -SHOULD- give its spell items as designed.
Spell Items (spells that are located in your inventory) should allow casting at lower levels when the adjusted level allows. (Meaning that Opal Jewels will now apply to s80 and other spell items)
Fixed the bug with exp gains for the Alter of Osiris daily instance, so it should give more exp for each kill in that instance
All trails will no longer make fart sounds
What is Hard DR?
Tier monsters have a way to bypass damage reduction methods of all types, causing them to have a minimum amount of damage they must apply to their target. This can cause them to hit all players fairly equally, that is, if they have enough dr to resist the amount of damage that is preventable. This provides an opportunity to balance out the classes a bit more, without nerfing mages or other "should be soft" classes. Hard DR is this new system to do exactly that. It reduces the minimum damage that must be done for monsters with a tier greater than one. The amount reduced is different for each class.
Knights: 25% reduction
Dragon Knights: 20% reduction
Royals: 15% reduction
Dark Elves: 10% reduction
Elves: 5% reduction
Mage: 0% reduction
Illusionist: 0% reduction
Reapers: 0% reduction
To be clear this is a buff to the classes that get the reduction and there is no change for those that do not. There are no nerfs applied with these changes.
Event Changes
Easter Bunny Kings have 30 new spawns that respawn each hour on Talking Island
The drop rate of all fur types have been greatly increased
Broodlings have been removed from the spawns for Large Dragon Eggs
Spawn Rate of dragon gates was decreased though it was decreased too much. It will be increased a bit higher with next restart.

Server Info

Current Events
EXP Event: 3x
SXP Event: 3x
DXP Event: 3x
VIT Event: 5x
Free Crack Event!
Free Death Event!


Current Chip Buff
Physical and Magical Damage Reduced By 20%

Zatoichi

*Hidden*

Ironwill

*Hidden*

Frosty

*Hidden*

ThePapi

Moen

Breeze

*Hidden*

Shurenzo

Betrayed

Bubba

Aldebaran

Titties

Proutt

Tepesz

*Hidden*

*Hidden*

Oreos

Furious

MagicMen

VitalityKing
AriaStark

Dajeek

*Hidden*
26 users online now.
Scaramanga
1 users online now.